Recently, at the signing ceremony of the cooperation agreement with GE Digital in order to commercialize software solutions, promote IoT trend in terms of technology and human resource development, Mr. Truong Gia Binh once again confirmed. "The most shortcoming is the human resource !"
When being interviewed about what Vietnam needs to grab the 4.0 technology opportunity, Mr.Truong Gia Binh, Chairman of FPT Corporation, said: "The solution to the human resource problem just wastes cost of building 30-kilometer route. Thus, Vietnam has the opportunity to become the center of the new industrial revolution of the world."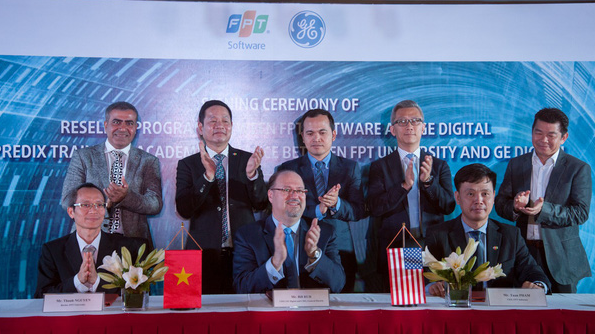 "4.0 revolution requires to study" Bill Ruh, General Manager of GE Digital said at the signing ceremony. "The most important thing is learning quickly. The country has the advantage of fast learning, it wins"
Mr. Truong Gia Binh jokily said: "We going to transfer all IT engineers into IoT engineer. 100% transferred!"
In the signing ceremony between GE Digital and FPT, in addition to the agreement of GE Digital's technology commercialization in Southeast Asia area,  the training of digital human resource related to GE Predix platform is an important content of this agreement.
Accordingly, GE Digital will train and certify for lecturers of FPT University. They will impart knowledge to Vietnamese students so that the students can rapidly catch up with intelligent applications (digital twin, cloud computing…) from GE Digital.
In addition, FPT will work with Siemens, the German technology corporation, which will train 1,000 Vietnamese employees in the field of MindSphere – The open IoT platform based on cloud computing. Since 2006 and 2007, FPT has cooperated with Microsoft and IBM to bring the technology of these big corporations into education for Vietnamese students.
In 2017, FPT accomplished the divestment in its retail and distribution sector to focus on the target of developing as a pure tech corporation. At the signing ceremony with GE Digital, Mr. Binh affirmed again the company's new technological dream: "FPT bets on smart manufacturing, intelligent factory. To realize that dream, FPT will turn existing factories into intelligent ones around the world."
In addition to the cooperation in human resources, according to this agreement with GE Digital, FPT Software will officially become the authorized distributor of GE Digital products and services in Southeast Asia. FPT simultaneously implements and advises on digital conversion in fields such as food, heavy industry, energy, etc. both parties will also cooperate in deploying selling, after selling and technical support activities to customers in Vietnam and countries in the same region.
Source: ttvn
Related posts: