The limitations of traditional education methods
A traditional classroom with 1-2 teachers managing around 30-50 students has been a long-established custom for decades, but it is certainly not the most effective way for modern-day learners for several reasons:
Overcrowded classrooms lower quality of education.
Teachers cannot solve every problem of students, minor problems may be ignored to ensure the overall progress and duration of the class.
Some students are interested to learn via videos or games, others like to be tutored by the teacher. Teachers cannot use specific delivery methods that are suitable for each student for a limited teaching period.
Learning ability and knowledge acquisition of each student are different.
Without the support of such technology as the internet, students find it difficult to access to diverse learning materials.
Technology's advancement opens up opportunities to improve education's quality
Education has been taken the advantage of massive technology advent. The utilization of technology in educational activities brings significant improvements and resolves the above problems.
Some utilizations of technology in education around the world are as follows:
Learning through massive open online course (MOOC).
Learning through 1-1 and 1-6 tutoring models.
Organizing online classes through Video Conference and Live-Streaming.
Applying artificial intelligence technology and machine learning to study and analyze each learner. Specifically in English, artificial intelligence guides learners how to pronounce and detect spelling and grammatical errors.
Integrating gamification into lectures to increase challenging mechanisms, which helps contents become more interesting and appealing.
Building communities to increase learning interactivity on social platforms.
Flipped classroom model: students independently learn through materials before class. When coming to class, teachers only focus on supporting each of them in handling exercises. This is currently on a rising trend in the US and South Korea.
Developing learning management system (LMS).
Applying virtual reality (VR) and augmented reality (AR) to organize classrooms.
Many businesses have deployed technology applications in in-house training, schools have integrated technology to help students access knowledge more effectively and training centers in such sectors as foreign language have adopted technology to increase learners experience.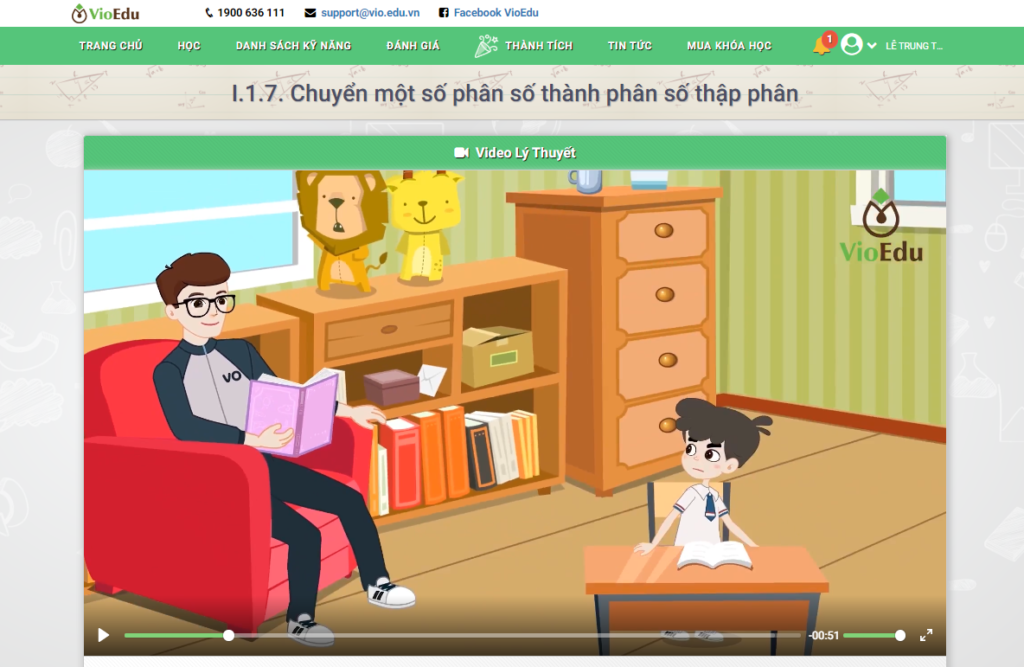 You can watch a video of a sample lecture on VioEdu HERE.
VioEdu's "Learning assistant" is a new educational technology product developed by FPT Corporation. It uses the latest technology applications to help personalize learning for each student's strengths, needs, skills and interests, which improves their learnig efficiency.
It is apparent that technology has crept into every activity and every stage of education. It is against this backdrop that the adoption of online education and educational technology has been an irreversible trend.
The relationship between teachers and learners in education is like clapping hands. Both teachers and learners have to make great efforts to get learnig efficiency.
And technology is considered as an effective means to get better connectivity. However, in order to take advantages of the-state-of-art technology, teachers have to learn how to ultilize technology in lecture and delivery methods. Learners have to get used to interacting with technology, accessing information from various resources, learning how to use smart measurement, reporting and evaluation systems to have an effective learning plan for themselves.
For further information, please contact:
VioEdu online educational system
VioEdu
Related posts: